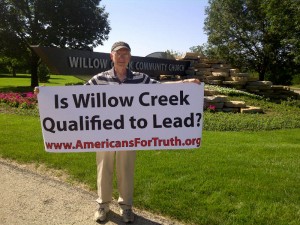 A man holds a sign with the message, "Is Willow Creek Qualified to Lead" as part of AFTAH's sign vigil outside Willow Creek Community Church's campus during their two-day "Global Leadership Summit." We will continue to ask why a Christian church would ever honor people who use their leadership gifts (given by God) to advance ungodly agendas. In 2009, a key Leadership Summit speaker was former British Prime Minister Tony Blair, who used his "leadership" tenure to aggressively push homosexuality in the name of civil rights in the U.K.
This story is fluid. AFTAH has been having serious web issues – in part due to hacking — so please pardon the delay in posting this item. Here is the press release on Willow Creek that AFTAH sent out yesterday via Christian Newswire. At our small vigil outside Willow Creek yesterday morning, we met WCCC spokesman Susan Delay, who assured me (contradicting my statement below) that Willow Creek's break with Exodus International in 2009 had nothing whatsoever to Willow Creek's meeting with the homosexual activist group Soulforce the previous year. Delay said that Willow senior pastor Bill Hybels soon would be issuing a statement on the church's approach toward homosexuality.
I informed Ms. Delay that the concerns with Willow go far beyond the Soulforce incident, and raised the 2009 Leadership Summit's featuring of former Britich Prime Minister Tony Blair — who championed homosexuality during his "leadership" tenure in the U.K. Certainly we continue to question why a Christian church — or a related church-sponsored leadership ministry — would honor a man (and men) who used their executive gifts to advance explicitly ANTI-BIBLICAL agendas in the culture. The story goes far beyond Willow Creek to the purpose of Christians as defenders of God's unchanging Truth (as opposed to subjective, man-centered "truths") in a sin-soaked world.
One more thing: nothing here takes away from the important work that Willow Creek Community Church does in the community through its many ministries. I spoke to two friends in Illinois – a man and a woman — who have been deeply blessed by acts of Christian charity carried out through the church's giving programs. AFTAH focuses on homosexuality, in this case Christian fidelity to politically incorrect Scriptural teaching: we believe that steadfast honoring of biblical truth (no matter the cost) — combined with selfless love – defines the believer's calling. We'll keep you updated. — Peter LaBarbera, www.aftah.org
P.S. Can you help us today? AFTAH is in a real dry spell financial -- partly due to the summer doldrums and partly due to the stalled economy. Please help us out if you can -- we are still far short of meeting our $25,000 "Match Grant" -- by giving online: www.americansfortruth.com/donate/. Or mail your check to: Americans For Truth, PO Box 5522, Naperville, IL 60567-5522. Thank you!
____________________________________
AFTAH Protests Willow Creek's Lack of Biblical Leadership in Breaking with Ex-Gay Ministry
Contact: Peter LaBarbera: 630-717-7631; americansfortruth@gmail.com
S. BARRINGTON, Illinois — Americans For Truth About Homosexuality (AFTAH) President Peter LaBarbera announced a peaceful sign vigil today and tomorrow outside Willow Creek Community Church—to protest the mega-church's puzzling disassociation from a Christian ministry that helps men and women overcome unwanted homosexual desires.
The Americans For Truth vigil targets Willow Creek's annual "Global Leadership Summit" – which draws thousands of Christians annually to the church's campus in Barrington, Illinois. AFTAH's banner message – "Is Willow Creek Qualified to Lead?" – will greet Summit attendees Aug. 11-12. That and other messages such as "Willow Creek Caves to Gay Activist Pressure," will highlight the influential mega-church's failure to boldly proclaim the Gospel's life-changing truth on the homosexual issue.
"Christians across the nation were stunned to learn that Willow Creek had abandoned its friendly working relationship with Exodus International, the world's largest 'ex-gay' ministry," LaBarbera said. "Worse, the break came in 2009, shortly after Willow Creek's leaders met with Soulforce, a homosexual activist group. Soulforce activists target mega-churches and Christian ministries like Focus on the Family — demanding a (politicized) "dialogue" even as they accuse leaders who defend the Bible's clear, historic prohibition of homosexuality of "spiritual violence."
In 2008, to protest the WCCC-Soulforce meeting, AFTAH held a silent sign vigil just outside Willow Creek's entrance. Upon learning of our small protest, WCCC's chief of security belligerently tried to block AFTAH from setting up our banner – apparently ignorant of our First Amendment right to protest on a public sidewalk. Ultimately, police were called in and the peaceful protest went forward.
In recent days, AFTAH placed several calls to Willow Creek inquiring as to whether the 2009 break with Exodus was linked to the church's hosting of Soulforce and subsequent "dialogue," but our calls were not returned. Many observers, including Exodus President Alan Chambers, a former homosexual, believe the disassociation stems from Soulforce's meeting at Willow Creek.
LaBarbera agrees: "Are we to believe it is just a coincidence that Willow Creek dropped a hopeful ministry like Exodus – which testifies to Jesus Christ's power to transform lives – shortly after WCCC's meeting with a contingent of homosexual activists, who pressed Willow Creek to end its 'prominent partnership with Exodus'?"
"This is a stunning capitulation to the "gay" lobby," LaBarbera said. "We expect the world to reject truth on sexual morality. But churches like Willow Creek that profess to be biblically faithful must not surrender to the notion that somehow homosexuality is too hard for God to change – or that it is the basis for a healthy identity."
Willow Creek's dumping of Exodus is hardly its first controversialact. The church has been widely criticized for bringing in heretical teachers, and its global "Summit" has featured leaders like former British Prime Minister Tony Blair who are at odds with traditional biblical morality. Blair counts among his greatest achievements the advancement of homosexual rights in Britain.

________________________________________________________________
Moody Pastor Dr. Erwin Lutzer to Keynote AFTAH Banquet Oct. 15!
Don't forget to mark your calendars for Saturday, Oct. 15, when we will have Dr. Erwin Lutzer -- the beloved pastor of Chicago's Moody Church -- as our keynote speaker at the 2011 AFTAH fund-raising banquet at Christian Liberty Academy, in Arlington Heights, IL. We are trying something new in these tough economic times by charging only $10 to attend the banquet ($15 at the door), so please plan now to come and invite as many people as you can to join you! AFTAH banquets are always powerful truth-telling events, and we are especially excited to have Dr. Lutzer as our speaker.
________________________________________________________________
Help AFTAH Fight the Radical 'Gay'/Trans Agenda & Double $25,000 Combined Matching Grant!

Americans For Truth urgently needs your help. We operate on a shoestring, but we have an awesome new opportunity: two very generous donors have given a total of $25,000 to Americans For Truth with the understanding that we will aim to match that total. If you support AFTAH's no-nonsense brand of truth-telling, and our non-defensive approach toward the anti-Christian Homosexual Lobby, please help us fulfill this critical matching-grant opportunity! You can give online at www.americansfortruth.com/donate/, or send your gift to: Americans For Truth, PO Box 5522, Naperville, IL 60567-5522. Thank you for standing with us and making our work possible!
________________________________________________________________