Brick thrown through window of Christian Liberty Academy
At right is one of two large paver bricks thrown through the glass entrance door at Christian Liberty Academy in the early morning of Oct. 15, the day of AFTAH's banquet at CLA. This photo is much bigger and clearer online. The message says, "Shut down Lively" -- referring to Scott Lively, who received AFTAH's 2011 "American Truth Teller" award.
Dear AFTAH Readers,
We had an AWESOME banquet with Dr. Erwin Lutzer at Christian Liberty Academy Saturday night -- not marred in the least by the ugly, violent "HATE CRIME" committed against CLA (two paver bricks thrown through CLA's glass doors, with a threatening note attached). The details of this pro-homosexual attack are below. Our next e-newsletter will review the "mainstream" news stories about it -- which generally refer to this as "vandalism" and not a "hate crime."
We have been busy: in the last 72 hours I have done interviews with: WorldNetDaily (see stories HERE and HERE): the Janet Mefferd Show; the Chicago Tribune and Chicago Sun-Times; the Daily Herald; Dakota Voice, AFA's "One News Now," Cybercast News and WVCY America, a Christian station with a huge reach across Middle America. This is a national story that exposes the gaping hypocrisy of the LGBT Lobby that decries "hate" and "bullying" yet routinely stokes anti-Christian bigotry.
By the way, a bunch of homosexual activists are saying that I and AFTAH are faking this crime to get attention! Is there no end to the lies?
As a conservative, I am no fan of the "hate crimes" concept -- in fact, AFTAH has fought against "Hate Crimes" legislation at the federal, state and local level. But since there is such a law on the books, it certainly ought to be applied even-handedly. And you don't have to be a rocket scientist to see how different the media (and law enforcement) reaction would be had this been a right-wing assault on a homosexual church -- rather than left-wing homosexual activists attacking and threatening a Christian school.
The Chicago Tribune is reporting that Arlington Heights, IL, police are NOT prosecuting this evil act as a "hate crime," which I find curious. It's now four days after the hateful attack and, incredibly, the leftist Chicago Independent Media Center website still has a "live" post put up by radicals taking credit for this crime (sort of like terrorists)! It goes without saying that Americans for Truth About Homosexuality will NEVER capitulate to such bullying and intimidation. And, thankfully, neither will Pastor Lutzer or Scott Lively, or our friends at Christian Liberty Academy led by Pastor Calvin Lindstrom -- who once again demonstrated the fortitude and courage that I've come to expect from this faithful man of God.

P.S. A hearty thanks to the many people who came out on a Saturday evening to our banquet and supported AFTAH with your generous gifts. It was wonderful time of fellowship and a blessed evening of celebrating Truth, in stark contrast to the Gay Liberation Network protesters outside with their lies and hateful chants.
_________________________________________
Threaten future attacks if "homophobic" events at CLA do not stop; police do not treat as "hate crime"
READ IT ONLINE: http://americansfortruth.com/2011/10/15/breaking-brick-throwing-vandals-attack-aftah-banquet-host-christian-liberty-academy/#more-10142
WARNING: vulgar language on graphic of letter
ARLINGTON HEIGHTS, Illinois, Oct. 19, 2011 – Pro-homosexual activists attacked the Christian Liberty Academy early October 15th – throwing two large, concrete brick pavers through its glass doors with a hate-note attached– and then issued an online statement claiming responsibility for the crime. The attackers demanded that CLA "shut down" a banquet it was hosting later that evening for the "homophobic hate group," Americans For Truth About Homosexuality (AFTAH). But their main target was pro-family veteran Scott Lively, who was honored at the event.
"This is just a sample of what we will do if you don't shut down Scott Lively and AFTAH … [F**k] Scott Lively. Quit the homophobic [sh*t]!" read the note that accompanied the bricks thrown through CLA's doors. The apparent "hate crime" against CLA did not deter the Christian school from hosting the banquet for AFTAH, which presented its 2011 "American Truth Teller" award to Lively, founder of Defend the Family International and the author of "The Pink Swastika."
Lively was targeted in the online statement for allegedly condoning violence against homosexuals in Uganda. (This is a false charge: Lively, like AFTAH President Peter LaBarbera, condemns all violence and genuine hatred against homosexuals.) The following excerpt is from the statement posted on the leftist Chicago Independent Media Center website:
"These chunks of concrete were thrown through these windows and doors for two reasons: to show that there is a consequence for hatred and homophobia in our community and to directly cause this event to be shut down. If this event is not shut down, and the homophobic day trainings do not end, the Christian liberty academy will continue to be under constant attack."
After Arlington Heights police came to the scene, they cased the CLA building — a large, former public high school — with bomb-sniffing dogs, according to CLA Pastor Calvin Lindstrom. As it turned out, the assailants apparently did not enter the building.
Taking credit for a crime
The extraordinary aspect to this case is that pro-homosexuality activists boldly took credit for the attack, in an online statement that remains on the leftist "Chicago Independent Media Center" website — signalling a new brazennes by homosexual activists. What follows is a screen shot of the statement [link HERE] taking responsibility for this act of domestic terrorism. It was posted early in the morning of Oct. 15 – just a few hours after the brick-throwing attack by an anonymous author, "PISSED" (This same statement was e-mailed to Christian Liberty Academy, Americans For Truth, Scott Lively and others):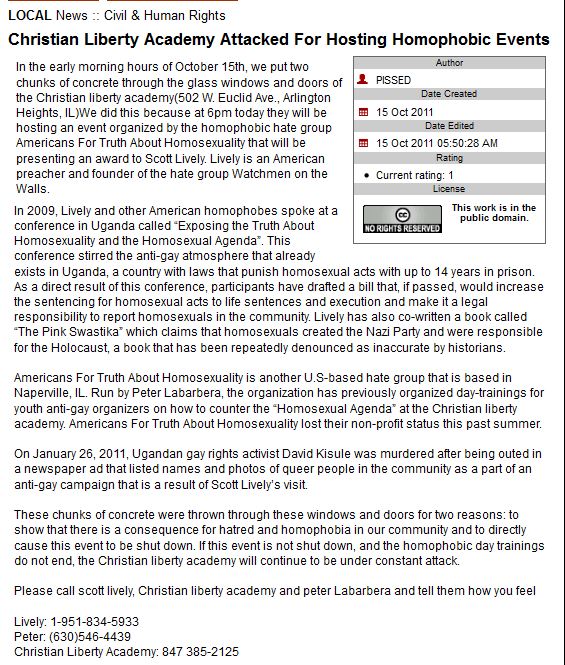 Here is the URL link for the Chicago Independent Media Center statement, which was still live as of Oct. 19: http://chicago.indymedia.org/newswire/display/95060/index.php.
The above statement repeats the extreme rhetoric and accusations against Lively by the Gay Liberation Network (GLN), a Chicago-based, Marxist homosexual activist group that routinely demonizes AFTAH and protests AFTAH events – including last year's three-day Truth Academy. In the weeks leading up to the banquet, GLN announced that it would protest the AFTAH banquet. — and falsely accused Scott Lively of condoning violence against homosexuals in Uganda (and also Americans For Truth President Peter LaBarbera of honoring a man (Lively) who supports violence against homosexuals). The charge is slanderous as both Lively and LaBarbera — like every major pro-family advocate who works on the homosexuality issue — have repeatedly and consistently opposed violence against homosexuals.
At the banquet and a speaking event Friday and Grace Gospel Fellowship Church, Lively reiterated that he steadfastly opposed the death penalty provisions in Ugandan sex-crimes legislation — which has been simplistically translated by homosexual activists as the "Kill the Gays" bill. To read his previous rebuttal of the false GLN accusations, go HERE.
Lively follows American Family Association founder Don Wildmon and Ken Hutcherson, pastor of Antioch Bible Church and pro-traditional marriage advocate, as a recipient of the AFTAH "American Truth Teller" award.
GLN has denied involvement in the attack on Christian Liberty Academy — which is being investigated by Arlington Heights police. The Chicago Tribune reports that the case is not being treated as a "hate crime." AFTAH, like most conservative Christian groups, opposes "hate crimes" laws — but questions why the attack on CLA is not categorized as a "hate crime" when it appears the victims (including the Christian Liberty Academy), have been targeted based on their religious beliefs about homosexuality. Both the Illinois and federal "hate crimes" laws consider religion and "sexual orientation" a protected category. Attacks targeting homosexual persons are routinely investigated as "hate crimes" from the outset.
Homosexuals blame AFTAH for crime
CAPTION: Shattered glass entrance door at CLA after pro-homosexual assault.
In the wake of the violent attack on the Christian school, homosexual militants immediately sought to cast doubt on the assault – by claiming that it was likely the work of Americans For Truth About Homosexuality. Homosexual blogger Joe Jervis of the "Joe.My.God" blog took the lead, immediately charging on his Twitter account that LaBarbera had staged a fake "hate crime" as a publicity stunt leading up to the AFTAH banquet. Jervis has accused other pro-family groups with staging attacks against themselves. Other "gay" advocates denounced the attack on CLA and said it would only hinder the homosexual activist movement.
On the Chicago Independent Media Center website containing the attacker's statement taking credit for the crime, Jervis desperately posted this comment:
Does anybody know the person supposedly behind this post? This is an open and unmoderated site from what I can see. I wouldn't be surprised at all to learn that LaBarbera and his foul cohorts staged this entire thing.
Lively recalls fake "gay" hate crime
Ironically, at both his talks for Americans For Truth, Lively recounted the amazing story from the early 1990′s of an infamous PRO-homosexual "hate crime" hoax staged by a lesbian, Azalea Cooley – to fight a conservative statewide ballot measure known as "Measure Nine," which would have made it unconstitutional for the state to promote homosexuality. Lively served as statewide media director for Oregon Citizen's Alliance (OCA), a Christian group that sponsored Measure Nine, and recalled how Cooley, a black, supposedly wheelchair-bound lesbian, claimed 21 cross-burnings in her front yard after the campaign for Measure Nine was launched.
In the final days of the campaign, after the perpetrators of this series of "hate crime" were never caught, two rogue policemen decided to investigate for themelves; as they staked out Cooley's home one night, they watched as she came out walking into her front yard holding a can of gasoline and a wooden cross, and lit the cross on fire. According to Lively, strategically-placed homosexual activists within Oregon's law enforcement agencies — including "gay" relatives of powerful officials — likely helped derail the proper investigation of Cooley's antics.
But, as Lively told the AFTAH audiences Friday and Saturday, "it gets better." The astounding fraud should have received saturation media coverage across the state, but instead was covered seriously only in Cooley's hometown of Portland. To end the campaign, Measure Nine's opponents held a massive "March Against Hate" ending in Portland — the final mobilization against the "evil" OCA ballot measure. And who was heading up the march as a symbol of the progressive struggle against Religious Right "hate"? … Azalea Cooley, riding in her wheelchair.