GET AUDIO ONLINE: http://americansfortruth.com/2012/01/23/splc-press-conference-audio-montgomery-al-january-17-2012/
African American leaders bristle at SPLC claim that they are tools of "white organizers"
Dear Friend of AFTAH,
Please take a half hour to listen to our press conference last week outside the Southern Poverty Law Center's headquarters in Montgomery, AL. [click HERE to listen.] We had a wonderful event -- Speaking Truth to Arrogant Leftist Power! Note the SPLC's racist-tinged response implying that the Black leaders who participated can't think and act for themselves. Of course, the SPLC's "hate group" smear against Americans For Truth and other pro-family groups is preposterous. If we are haters, then every leader -- black, white or brown -- who speaks out in the public square against the aggressively anti-Christian Homosexual/Transsexual Agenda is a "hater."
This event is what Americans For Truth is all about: calling out the Left for their pro-homosexual lies, and educating Americans on the "other side" of the pro-"gay" movement that the liberal media regularly covers up. AFTAH will continue to fight the Left's evil campaign to demonize and marginalize Christians and all citizens who oppose the Homosexual Lobby -- which corrupts children, undermines marriage and public health, and leads the Secular Left's assault on religious freedom. You can help us stay in the fight by making an online gift to AFTAH at www.americansfortruth.com/donate/. (Regular mail: AFTAH, PO Box 5522, Naperville, IL 60567-5522.) Thank you and keep on standing unapologetically for Truth! -- Peter LaBarbera, www.aftah.org
_____________________________________________________________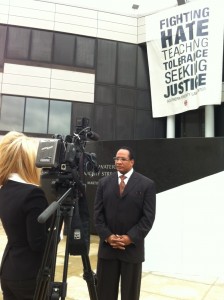 North Carolina pastor Patrick Wooden criticized the Southern Poverty Law Center for implying that Black leaders cannot think for themselves and had to be "brought" to the SPLC press conference by "white organizers." Here he is interviewed by a Montgomery TV reporter after the AFTAH press conference. In the background is a large SPLC banner decrying "HATE." Go online and click on photo to enlarge.
Here is the audio [click HERE to listen] for AFTAH's press conference January 17, 2012, outside the headquarters of the Southern Poverty Law Center, in Montgomery, Alabama, featuring a coalition of African American pastors and pro-family leaders challenging the SPLC's tendentious "hate group" designation against Americans For Truth and other pro-family groups. Total length is 33 minutes.
The following speakers appeared (with beginning times on recording):
Referenced links: Click HERE for the SPLC's racist-tinged blog post by Mark Potok issued just before the press conference — alleging that "the white organizers of the press conference are bringing along a set of black pastors." Click HERE for the SPLC "Hate Map [Illinois]" referenced by LaBarbera showing the Neo-Nazis.
_______________________________
HOW TO LISTEN: This is an mp3 file, supported in most operating systems by Windows Media Player, Quick Time and/or I-Tunes. Real Player is not supported and there may be difficulty when attempting to listen with it. Left click once on the link below to play. (Please be patient, depending upon the speed of your internet connection it may take a moment to load.) OR right click the link then "save target as" to download the entire segment.
SPLC Press Conf Audio, 1-17-12
_______________________________

Help AFTAH Stand Up to the Powerful Pro-Homosexual Lobby!

Americans For Truth is a unique Christian ministry, equipping believers and anyone who defends time-tested Judeo-Christian morality in the Culture War over homosexuality and marriage. You can help us stay in the fight by making an online gift to AFTAH at www.americansfortruth.com/donate/. Send regular mail gifts to: AFTAH, PO Box 5522, Naperville, IL 60567-5522.

______________________________