Join us for The Awakening 2012 in Orlando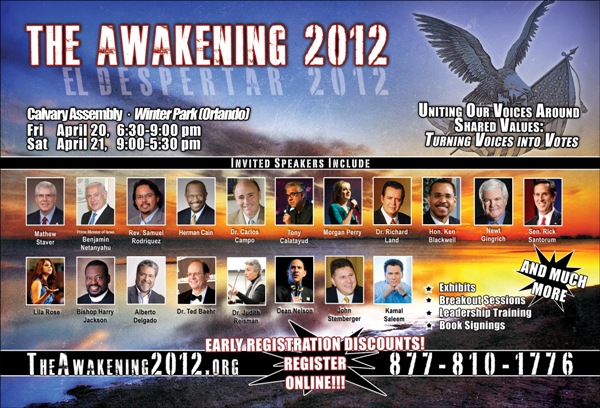 The Awakening 2012 will be an in-depth Prayer and Patriotism event where people are united by our love for our country's freedom and our faith in Christ. More than 60 experts have confirmed they are coming to The Awakening 2012… Have you?
See our schedule and choose from breakout sessions with topics from Israel to immigration, from our families to our nation's future, all led by experts dedicated to the cause of promoting and protecting our Judeo-Christian values.
As the war rages on against our shared values, it is time we join together as Christians and conservatives to turn our voices into votes! We welcome all ages, denominations, and ethnicities to unite around our Christian and conservative values. As our nation's honor is deteriorating, now is the time to take a stand and restore our country's strength and dignity!
Unite with us as we educate, motivate, and activate you to make a difference in your communities in 2012. Don't wait! Ensure your spot at this year's most educational and exciting political event in Central Florida by reserving your tickets today at www.TheAwakening2012.org or by calling 877-810-1776.
Mathew D. Staver - Founder and Chairman
Anita L. Staver - President
Liberty Counsel - 1-800-671-1776
PO Box 540774 - Orlando, FL 32854