UPDATE ABOUT GROUPON BOYCOTT
| | |
| --- | --- |
| | Groupon seeks to profit from exploitation and torture of women |

Groupon defends coupon to torture porn company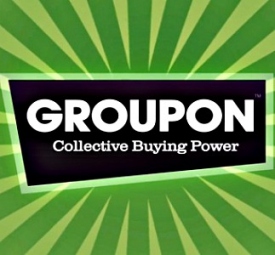 Dear Friend,
Just over 5,000 people have pledget to boycott Groupon and have sent complaints to their executives since Friday.
PLEASE ASK AT LEAST 5 OF YOUR FRIENDS TO DO SO TOO! (You can send another as well!)
Groupon sent another response to this saying: "For what it's worth, Kink's owner is actually a fixture in the local community and regularly donates to local youth charities. We feel that because this business is an active good community citizen...it is worth the experiment to run it."
Groupon twice advertised for Kink, which specializes in the humiliation and abuse of women (they even claim to use young, sexy teens!) using urine and Chinese torture tools among other horribly degrading things.
LET GROUPON KNOW THAT THEIR WIDER COMMERCIAL AUDIENCE DOES NOT SUPPORT THE TORTURE AND HUMILIATION OF WOMEN AND GIRLS AND THAT WE EXPECT MORE CORPORATE RESPONSIBILITY FROM THEM!
SIGN THE BOYCOTT PLEDGE AND SEND ANOTHER EMAIL TO THEIR EXECUTIVES. After you visit the page, please cancel all of your subscriptions to Groupon.
If you would rather call them:
· Matt Keeler – Director of Business Operations – 312.334.1562
· Jim Sofranko – Vice President of Business Development – 312.676.5773
· Nick Cloffi – Vice President of Sales and Operations Strategy – 312.783.2366
· General Customer Feedback - 1-877-788-7858
Don't forget to tell others! Blog about it. Share it on Facebook. Send it to all of your contacts. Help make this a big deal!
Dawn Hawkins
Executive Director
Morality In Media
Porn Harms
REMINDER ABOUT FREE ONLINE EVENTS TODAY AND TOMORROW
Monday - April 23
Noon PM EST – Documentary Screening: Somebody's Daughter: A Journey To Freedom From Pornography. Watch on Facebook here: http://on.fb.me/qbIz7j
Tuesday – April 24
07:00 PM EST - LIVE VIDEO DISCUSSION: "Recovering Teens Speak About Their Struggles With Porn Addiction" - Watch on Facebook here: http://on.fb.me/qbIz7j