Rose smeared MN pro-family leader as "spokes-turd" and Maggie Gallagher as "Gagginwhore"
READ IT ONLINE WITH GRAPHICS: WARNING: Vulgar and highly offensive hate graphics (created by Scott Rose) in AFTAH story online:
[GRAPHIC IS ONLINE]
The above malicious and sophomoric hate-graphic attacking (Minnesota-based) Parents Action League leader Laurie Thompson, was created by homosexual activist Scott Rose — for his now-defunct blog, "AntiGay Bigotry Scares Me." It was the same Rose who filed a "professional misconduct" complaint against U. of Texas scholar Mark Regnerus, whose landmark study exposed the negative effects of "gay parenting." U-T rejected Rose's complaint, finding no grounds for a formal ethics investigation of Regnerus. Click on graphic to enlarge in separate window.
______________________________________
By Peter LaBarbera, AFTAH
The University of Texas has cleared its scholar, Sociology Prof. Mark Regnerus, of any "professional misconduct" related to his landmark study implicating homosexual parenting. Thus U-T rejects the tendentious ethics complaint by Scott Rose (aka Scott Rosenweig), who bills himself as an "investigative reporter," but is in reality a hateful homosexual activist who viciously and crudely demonizes pro-family leaders.
How hateful and vindictive is Rose? Above is a malicious graphic created by Rose for an attack-piece (since scrubbed from his own blog, which has been down for weeks). Its target is Laurie Thompson, a leader of the Parents Action League, a pro-family group that opposes pro-homosexual policies and curricula in Minneapolis schools. AFTAH has also acquired e-mail correspondence between Thomson and Rose that exposes his abusive tactics, e.g., calling Thompson a "gay-bashing monster." (Rose writes for a homosexual advocacy website, "The New Civil Rights Movement.")
In a further demonstration of Rose's cruelty and penchant for nasty attacks, see the graphic further below in this article – in which he labels pro-marriage leader Maggie Gallagher, a founder of the National Organization for Marriage, as "Maggie Gagginwhore," under a photo of a pig. This original post also has been taken offline [see graphic at bottom of this article], undoubtedly to hide Rose's true nature as an extreme LGBT militant willing to go to absurd and lengths to vilify his opponents.
The following is excerpted from U. of Texas' Aug 29, 2012 press release exonerating Regnerus:
The University of Texas at Austin has determined that no formal investigation is warranted into the allegations of scientific misconduct lodged against associate professor Mark Regnerus regarding his July article in the journal Social Science Research.

As required by its Revised Handbook of Operating Procedures, the university conducted an inquiry to determine whether the accusations made by writer Scott Rose had merit and warranted a formal investigation. After consulting with a four-member advisory panel composed of senior university faculty members, the Office of the Vice President for Research concluded in a report on Aug. 24 that there is insufficient evidence to warrant an investigation.
The inquiry by four University of Texas faculty members answered a "multi-page document consisting of a series of allegations" by Rose against Regnerus. But U-T Executive Vice President and Provost Steven Leslie, who led the inquiry, concluded (emphasis added):
…that Professor Regnerus did not commit scientific misconduct when designing, executing, and reporting the research published in the Social Science Research article. None of the allegations of scientific misconduct put forth by Mr. Rose were substantiated either by physical data, written materials, or by information provided during the interviews [between U-T and Rose and Regnerus, respectively]. Several of the allegations were expressly beyond the purview of the inquiry. In brief, Mr. Rose believed that the Regnerus research was seriously flawed and inferred that there must be scientific misconduct. However, there is no evidence to support that inference.
Rose violates U-T confidentiality policy
The preliminary inquiry was exhaustive — including sequestering 42,000 of Prof. Regnerus' e-mails at the university – but Rose himself blatantly violated the rules of the process by publishing his accusations online. Alan Price, the independent expert with impeccable credentials charged with overseeing the inquiry to make sure it complied with university policies and procedures, wrote in his report validating U-T's findings:
From the beginning of the case, in June 2012, the complainant [Rose] failed to maintain confidentiality as required by the policy. Mr. Rose published his allegations and information about the University officials' interactions with him many times on an Internet blog, as well as sending numerous emails to others and discussing the case with the news media in June, July and August 2012. The Research Integrity Officer had requested that [Rose] maintain confidentiality as required by the University policy….
Here is one of Rose's accusatory pieces against Regnerus published on the "New Civil Rights Movement" website. At bottom of this article (see graphic below) is one of Rose's previous "hit-pieces" against Maggie Gallagher on his "Anti Gay Bigotry Scares Me" blog — which has since been taken down. This writer concurs with Laurie Higgins that Rose likely sought to hide his most extreme and inflammatory work so as not to undermine his formal complaint filed with the University of Texas.
AFTAH will be publishing further portions of Rose's online "paper trail," which reveal him to be far from an objective "investigative reporter" but rather a hardened and deeply anti-Christian homosexual activist who is willing to vilify his pro-family targets with a vileness and ferociousness that would put off even most homosexual advocates.
We will also be watching to see if due to his objectively hateful antics Rose is labeled as a perpetrator of "hate" by the Southern Poverty Law Center, which is under fire for assigning that spurious designation to numerous pro-family organizations, including AFTAH. To date, the SPLC has not applied its "hate" label to any homosexual activist or organization – including the Gay Liberation Network, a Marxist Chicago group that expressly refused to condemn a pro-homosexual brick attack against Americans For Truth in 2011.
_________________________________
More Evidence of Scott Rose's Hateful Tactics
WARNING: Vulgar Language: Not for Children
Below is another terribly nasty graphic and attack-article put up by Scott Rose on his now-defunct "AntiGay Bigotry Scares Me" blog [see "eBlogger" notice at bottom of this article]. We apologize for the vulgar language, and also to pro-family icon Maggie Gallagher (whom Rose childishly calls "Gagginwhore") for reproducing this vile graphic and story. We do so only to provide evidence documenting Rose's extreme hatred and his cruel, dehumanizing tactics. — Peter LaBarbera, AFTAH
This is only a portion of the longer screed against Gallagher [click HERE for a copy of the full article]:
_________________________________
The following is an excellent article on the Regnerus-Rose controversy written a month ago by Laurie Higgins of Illinois Family Institute:
Regnerus Study on Family Structures, Scott Rose and Academic Inconsistency
By Laurie Higgins, Illinois Family Institute, July 30, 2012 [note: this reprint does not include all the web links from the original article; many of the same links can be found above]
**Caution: Reader discretion advised.**
A study conducted by Mark Regnerus of the University of Texas compared the "social, emotional, and relational" outcomes for children raised in different family structures, including children raised by heterosexual parents and those raised in homes in which the parents had been in homosexual relationships. It found that the children raised in homes in which parents had had homosexual relationships were disadvantaged in numerous ways.
Regnerus' research has come under heavy fire for flawed test construction which, critics charge, is due to bias. The central criticisms include the following:
Regnerus' conclusions are biased because he follows a faith tradition that teaches that volitional homosexual acts are not moral. Regnerus' study was funded by two conservative organizations. Regnerus compared apples to oranges. That is, he compared the social, emotional, and relational outcomes for children raised within intact heterosexual family structures to those for children raised by parents who had had a homosexual relationship. As William Saletan for Slate Magazine explained, "[Regnerus] compared children of intact mom-and-dad families not to the tiny subset of kids raised by same-sex couples (which was statistically nonviable) but to the much bigger sample of kids with a parent who had at some point engaged in a gay relationship." The scorched earth assault on Regnerus' study was precipitated by two events: a petition signed by 200 academicians, surely motivated only by their professional concern for the ethical integrity of academic research (nudge, nudge, wink, wink).... [continued online...]

TO CONTINUE READING, go here: http://americansfortruth.com/2012/08/31/u-of-texas-dismisses-homosexual-extremist-scott-roses-misconduct-complaint-against-prof-mark-regenerus-gay-parenting-study/
_____________________________________
Scott Rose's Vicious Homosexual Website Scrubbed:
This is the image that comes up on E-Blogger when one clicks the original link for Scott Rose's "AntiGay Bigotry Scares Me" blog post targeting Minnesota pro-family advocate Laurie Thompson. It appears something else "scared" Rose as he filed his (failed) "professional misconduct" complaint against University of Texas sociology professor Mark Regnerus. Click to enlarge in separate window: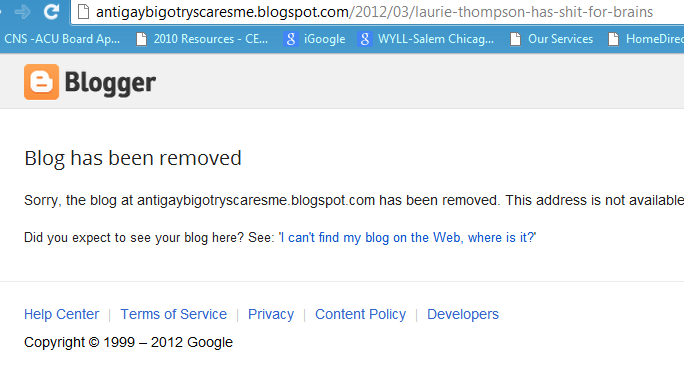 ___________________________________________
Become an AFTAH "Truth Team" Monthly Supporter!
Americans For Truth needs YOUR help to continue to publish factual accounts like this that tell the HARD TRUTH about the Homosexual Lobby. Sign up to pledge your regular monthly gifts to Americans For Truth About Homosexuality at www.americansfortruth.com/donate/. Or go to the same page to make a one-time donation. Your regular, sustained giving will help us plan for the long term. You may also send gifts by check or money order by regular mail to:
AFTAH, PO Box 5522, Naperville, IL 60567-5522
Thank you!