MassResistance Update

Pro-family activism

"In a time of universal deceit telling the truth is a revolutionary act."
- George Orwell
Gay Pride Week in Boston:

1. Raising rainbow flag over Boston City Hall - state & local officials gather for ceremony. Attorney General says: I'll help change laws to push gay agenda.

2. A week of public homosexuality -- with new focus on kids.

3. Major Boston hospital holds "LGBT Achievement Award Ceremony" -- invites doctors & staff.

4. And more to come . . .

1. Raising rainbow flag over Boston City Hall - state & local officials gather for ceremony . Attorney General says: I'll help change laws to push gay agenda.

We've said it before: The rest of America should pay attention to what's happening in places like Massachusetts. This could be your future, too, if you're not vigilant.

"Gay Pride Week" in Boston began on Friday, May 31 with a rainbow flag ceremony at Boston City Hall. It lasts through Sunday, June 9.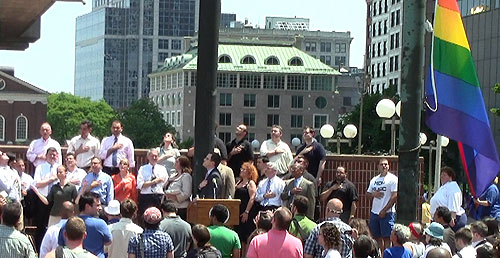 As the ceremony began it was an odd scene. They played the National
Anthem in the shadow of the huge rainbow flag.
It began with a show of political power. Prominent state and local elected officials gathered in front of Boston City Hall to pledge their support for the homosexual movement, make groveling speeches, and participate in raising the rainbow flag over Boston City Hall.

For those with traditional religious values who have been trampled by the homosexual movement for years it was a pretty frightening display. The message from the politicians was that the "gay" movement can rely on them to whatever it wants. From what we've seen in recent years they're very serious.

Those in attendance included:
City of Boston: City Council President Stephen Murphy. Boston City Councilors Felix Arroyo, Mark Ciommo, John Connolly, Rob Consalvo, Sal LaMattina, Bill Linehan, Matt O'Malley, Ayanna Pressley, Mike Ross, Charles Yancey. In addition, a lot of the Mayor's top staff and various candidates for Mayor of Boston.

Other State and local officials: Attorney General Martha Coakley, Congressman Edward Markey, Suffolk County District Attorney Dan Conley, Suffolk County Sheriff Steven Tompkins, State Reps Liz Malia, State Sen. Linda Dorcena Forry, State Rep. Marty Walsh
In particular, when the top law enforcement officers -- the Attorney General, District Attorney, and Sheriff -- show up and publicly support the radical homosexual movement, we know we're in trouble!
[MassResistance photos]
Justin Holmes, the Mayor's director of constituent engagement:

"I am so proud to be a member of the gay community here in Boston."

Boston City Council President Stephen Murphy:

"Earlier today we had the honor of hosting a breakfast with the Boston Pride Committee. It's a proud tradition. It's gone on for several years and it is the official start of a week's worth of invigorating activities which really bring to life the entire city of Boston."

Congressman (and US Senate candidate) Edward Markey:

"LGBT Rights are human rights. It's about basic human freedoms . . . I opposed 'Don't Ask Don't Tell.' I was proud to vote in favor of the legislation that finally repealed the ban on openly gay service members."

Attorney General Martha Coakley:

"I was proud as a District Attorney to be with you on needle exchanges . . . We know we still have work to do with the LGBT community, know that our laws and our opinions and our culture may not go far enough, we'll be with you to make sure that they do."

Gay Boston Public School teacher:

"As a teacher I get to mentor and be a face for them to respect and to mentor some students . . . And I'm also lucky to be an artist because when I need to reach more than just my small corner of Boston I get to use art and show visibility and make our LGBT community more visible and make our students feel safer at school.
Interestingly, the two "gay" issues that were recurring themes in the speeches were "gay marriage" and legalizing needle exchanges.

Boston Mayor Thomas Menino wasn't there, but he certainly wasn't left out. Menino is the Grand Marshal of Saturday's Gay Pride Parade. Holmes lavishly described Menino as:
". . . a man who has spent the last twenty years -- and even more as a City Councilor -- in support of our [LGBT] community at every turn -- marriage equality, and the earliest days of needle exchange. Our mayor has been with us every step of the way and has easily earned the moniker of 'the most pro-gay rights mayor in our nation.'"
VIDEO - Watch the ceremony & excerpts from speeches:
| | |
| --- | --- |
| And here's the "gay flag" proudly flying at Boston City Hall. | |
---
2. A week of public homosexuality -- with new focus on kids.

Last Friday was just the beginning. All this past week, and through Sunday, downtown Boston has had one "gay" event after another including even outdoor downtown "block parties."
| | |
| --- | --- |
| Unbiased? Channel 5 is all over the "Pride Week" website with their "out gay" weatherman. | |
And as in past years, during this time tourists to Boston often wander into some depraved "public event" and have no idea what's going on or why. And the Pride Committee's message -- backed by the politicians -- is pretty clear: Get used to it.

A growing focus on getting kids involved

Years ago, Gay Pride Week -- as weird as it was -- was largely only about adults who might dress and act like children. But a disturbing trend in recent years has been to include activities to attract teenagers as young as middle school age. There seems to be a very strong interest by adult activists to get kids involved with the "gay" festivities.

For example, last year for the first time, the Boston Pride Committee took over the "Youth Pride" event which was held this year in Boston on May 18 for middle school and high school kids. (We have a full report on that coming up, with video.) It was VERY disturbing.
Scene from May 18 "Youth Pride" event run by adult Boston Pride Committee. The homosexual movement wants kids to feel comfortable experimenting with homosexuality.
[MassResistance photo]
And this Saturday night the Boston Pride Committee is putting on a "Boston Youth Pride Dance" in downtown Boston for kids "under 21" (as they also did last year). The dance is right in City Hall Plaza the night following the adult parade and festival, so there will be plenty of gay adults around cruising that area. The Boston Pride people were at Youth Pride, handing out info encouraging youth to come to this.
---
3. Major Boston hospital holds "LGBT Achievement Award Ceremony" -- invites doctors & staff.

The huge numbers of diseases, medical problems, addictions, and psychological issues associated with homosexual behavior are well documented. So it's really bothered us that major Boston hospitals march in the "Gay Pride" parade and enthusiastically promote "Pride Week" activities.

But even most pro-family people don't realize how entrenched it is in these hospitals. From what we've seen, at some big hospitals it comes right from the top, and is meant to be taken seriously.
| | |
| --- | --- |
| One of the wings of the sprawling Beth Israel Deaconess Medical Center in Boston, a big supporter of the homosexual movement. | |
For example, here is an internal email sent to the doctors and staff at Beth Israel Deaconess Medical Center BIDMC (a major Harvard-affiliated hospital in Boston) last week.
To: BIDMC Community

From: Kevin Tabb, MD President and CEO

Subject: Pride Week: LGBT Awards June 7/Pride Parade June 8

One of our most deeply held core values and cherished traditions is BIDMC's commitment to inclusion and respect. From June 1 to 9, BIDMC will celebrate the 20th annual Pride Week, recognizing service to the Lesbian, Gay, Bisexual and Transgender (LGBT) communities as an employer and care provider. The theme of this year's event is "A Community United," highlighting the strength and unity of the LGBT community in overcoming adversity.

Highlights of this year's celebration (and ways you can participate) include:

Attend the June 7 LGBT Achievement Award Ceremony at 11:30 a.m. in the Shapiro Board Room, Shapiro 10, east campus. Lunch is provided and the keynote speaker will be Rebecca Haag, President and CEO, AIDS Action Committee.

Join BIDMC marchers walking in Boston's Pride Parade on Saturday, June 8. Register now with Stacey Adamson, PT, Rehabilitation Services, sadamson@bidmc.harvard.edu, or Jim Arrington, Manager, IS Support Services, jarringt@bidmc.harvard.edu and get your free t-shirt.

From June 3 through June 8, be sure to stop by the display cases outside the east and west campus cafeterias to view our wonderful Pride Week poster celebration.

For more information visit the events calendar on the BIDMC Portal.
It is unbelievable but true.

Telling the truth can be a firing offense

BIDMC is not simply passive on this issue, but can be quite aggressive. As we described in our booklet "What same-sex 'marriage' has done to Massachusetts", a few years ago a physician on the BIDMC staff wrote an email to a top BIDMC officer and also others involved with their "gay pride" promotion. In the email he complained that the hospital should not be endorsing a behavior that causes disease and death. Their reaction? The physician was summarily called before a hospital tribunal and told that unless he apologized for his remarks he would be fired, and that he may not write similar things in the future. (We've seen the documentation on that!)

And from what we're finding, that attitude becoming more common among the major hospitals across the country. It's not just a war against religious belief, it's a war against facts and common sense.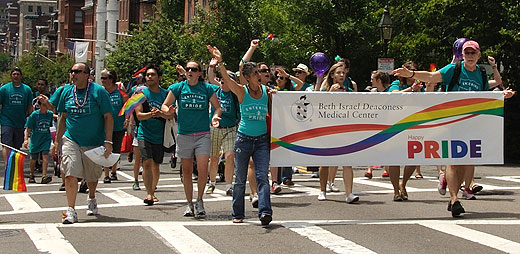 The Beth Israel Deaconess Medical Center contingent in last year's Gay Pride
parade in Boston. [MassResistance photo]
---
4. And more to come . . .

Also this weekend (tho rain is forecast) the main Gay Pride Parade and the giant "gay celebration" in Boston City Hall plaza. Keep your children and families indoors!

We'll also have a full report on the fallout from the Boston Red Sox holding "Gay Pride Night" at Fenway Park this week.

Plus, we'll have a full report coming on the destructive "Youth Pride" events in downtown Boston on May 18 which was run by the adult Boston Pride Committee.

MassResistance is there for you because the public needs to know!